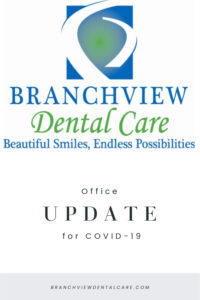 Here at Branchview Dental Care your health is our top priority! We maintain the highest level of sanitation standards and we have taken even further precautionary measures during this time to ensure you, our valued patient AND our outstanding teammates safety!   There will be some additional steps we take to do this:
 We ask that you wear a mask while in our office. You might not recognize all of us because we also wear a mask while in the office! Our clinical team is wearing a mask, gown and face shield!
 

We will have you check in from your car! Just give us a call and let us know you have arrived!

We will take your temperature when you arrive. All of us also take our temperature when we arrive for work that day!
We will ask you to complete a pre-screening questionnaire within 24 hours of your appointment, the day of your appointment we will have you complete the questionnaire to ensure you are healthy and not experiencing any symptoms and finally 48 hours after your appointment we will need you to answer questions about whether anything has changed regarding your symptoms.  This is for your health and safety as well as our team.
We will ask you to wash your hands when you come in and before you leave!
We appreciate your patience during this time and we can't wait to see you!